– Become a VIP for FIV Sponsor by signing up as a recurring, monthly contributor during FIV Week through March 29. As an official VIP for FIV Sponsor you will directly provide supplies & medical care and receive periodic updates for the kitty under your care! The first six (6) recurring, monthly sponsors at a $25 level (minimum) will also receive a complimentary FIV tshirt! When you sign up as a sponsor here, simply write the name of your chosen FIV kitty in the comments box (animal profiles are as follows: Marshall, Audrey, Westin, Norman, Meeka, Harv, or Sidney.) Thank you for caring enough to support those animals who wait a little longer to find their forever homes. Please email LulusLocker@gmail.com with any questions!
If you're unable to sponsor at this time:
– Foster: We cannot rescue animals without Foster Parents. Temporarily open your home to an FIV cat while we seek a permanent home for them – they can and do live with dogs and non-FIV cats!
– Adopt: Invite an FIV cat to be a permanent part of your family!
– Donate Food*: Quality food is a key ingredient in keeping our guys healthy and happy! Weruva and Tiki Cat brand cat foods are needed on a regular basis.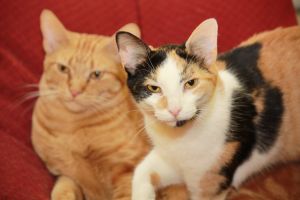 Please contact us for specific information and how you think you can help! LulusLocker@gmail.com or 708-325-8581